Messy Church is a two hour time of fun for all ages.  Crafts, dancing, Bible Story and a kid friendly supper.  
This happens on the last Friday of each month for September – November, and January until May.  
Our first Messy Church this fall is on Friday, September 27th, from 5 – 7 pm.  Supper included. 
No fee.
All ages welcome!
 Have a great summer!
See you in the fall
…….  a Little at a Time"
Shirley O'Driscoll – 204-729-8442
Gail Thickett – 204- 725-4934   
Ruth & Glenn Sawyer – 204-728-4683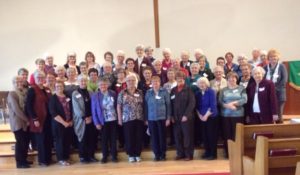 Trinity UCW meets on the first Tuesday of the month at 1:15 except in September and January.  Those months it meets on the second Tuesday starting at 1:15.
The next meeting of Trinity UCW will  be
Tuesday,October 1st, 2019  starting at 1:15 pm 
We are pleased to welcome Davis Placatka as our Music Director as of Sept. 1, 2019.  Davis is an accomplished pianist as well as have been in choirs.  He graduated from  Trinity Sunday school and is a member of Trinity.
As well we are very pleased to have Holly Walker return as Pianist this year!. Holly has her Bachelor of Music in Piano  Performance from Brandon  University.  She has been teaching music in the Brandon School  Division for the last nine years.
Choir Practise is on Thursday evening starting at 7 pm.
Everyone is welcome to come on out and

 join in the fun and learning.